Welcome to Brandt's candle collections. We love to play, find counterparts and address a new focus with each collection we make. Also, we want to keep surprising and developing. Not only for our collections but also for us as candle makers. When making a new collection, we always look at our other collections to see what hasn't been done before. This resulted in the following candle collections by Brandt.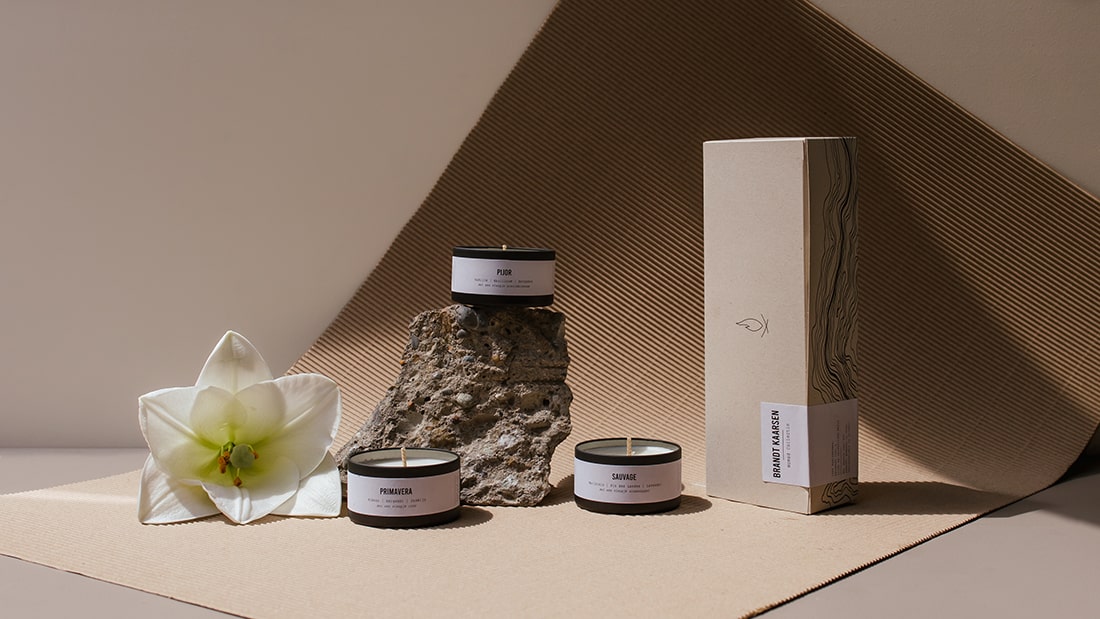 Nomad Collection
Scent: blends of European flowers, herbs, forests and fruits
Design: cool and tough without being hard or distant
Wood Collection
Scent: wood scents, traditional scents combined with surprising elements
Design: minimalist, with the design of a luxurious scented candle
Sample SET
Scent: smaller versions of the Apothecary candles
Design: a warm gift, perfect to get to know the Apothecary Collection
Seasonal Collection
Scent: a translation of the scents of each season
Design: elegant and romantic, yet balanced by its minimalist and simple packaging
Refill Collection
Scent: perfect to get to know all Brandt's scents
Design: wrapped simple but convenient kraft box. Printed with the recognizable Brandt flame
Apothecary Collection
Scent: flowers and fruits, simple and accessible
Design: minimalist and appropriate in every room
Our candle collections
We started with the Apothecary Collection back in 2016. The first 4 candles from this collection were simple, accessible and recognisable, both in scents and design. This created a great foundation of scents of flowers and fruits.
We wanted to make the next collection simple in design but more complex in scents. This resulted in the Wood Collection.
The candles from the Seasonal Collection are elegant and graceful through the glass, profound and surprising in the scents and simple and minimalist in the box. We love to put our ideas into collections in creative ways, because there are so many interesting styles and combinations.
Collections and colours
We are currently exploring which colours we like and which fit the style of Brandt. If you've ever bought anything from us, you'll know that each candle comes in the light grey blotting paper and is wrapped in brown Kraft paper. But in other ways, like with the summer candles, we also like to show our colours. As you can read, we're always working on something new!
In each candle and collection, you'll always find three elements that keep our candle family together. That is an accessible candle, made with craftsmanship and the focus on sustainability. Want to read more? Have a look at our artisanal candle studio.